Simple Hardware (SimpleHW) is an Internet-of-Things (IoT) startup company based in the Czech Republic founded in 2015, specializing in manufacturing and supplying affordable and reliable IoT devices around the world.  
Simple Hardware products are versatile multi-sensor devices powered by Sigfox technology, designed to deliver great performance, reliability, affordability and high endurance with a battery life that could exceed 10 years. Simple Hardware aims to build solutions for both inner usages among their B2B clients who are software and hardware makers as well as their end customers. They have sold more than 10,000 devices to over 200 clients worldwide, from Mexico, the Middle East to Australia and Japan. Use cases of SimpleHW devices have been cited in various fields including Tracking & Asset Management, Insurance & Security, e-Agriculture, Industry 4.0, Smart City, utility sectors and logistics. In addition, the devices can be branded in retail solutions for end customers.
Business problem: Lacking a coherent business management system 
Initially, Simple Hardware used individual softwares for interconnected business functions, such as Magento for their e-shop, Vtiger for CRM, UserEcho for customer support and Drift for online chat. Soon realizing having customer information stored in 4 separate databases would not support business growth in the long term, they transitioned to only two platforms which were Hubspot and Shopify to simplify information storage and flows. However, with an increasing number of orders, their internal ordering and stock management system was meeting its limits and could not execute a large volume of orders within the time requirements. Pavel Sodomka, CEO of SimpleHW, came to the decision that they needed one single integrated system to store all data in one place and streamline every step of their business processes from CRM, Sales, Inventory to post-purchase Customer Support, with the ultimate goal of improving their internal processes and better serving their customers.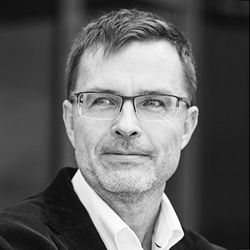 You want to have a single view of your customer. You want to have a single view of your product. You want to define the product. Everything in one place. Therefore, we were looking for something that would combine CRM with warehouses, support, e-commerce into one system.   - Pavel Sodomka, CEO of Simple Hardware
After considering different types of ERP, including traditional ERPs such as SAP and NetSuite as well as experimenting with popular CRM tools like Salesforce, Pavel decided that the ideal system would need to satisfy the specific requirements of their IoT operations while containing features supported internationally. 

Following extensive evaluation and discussion, Pavel and his team decided to go with the Enterprise version of Odoo, a fully-featured ERP system that integrates all their required functions into one system at a competitively affordable price. The decision was followed by the pick of Port Cities as the implementation partner. 
Despite not being physically present in the Czech Republic, Port Cities were able to virtually assist SimpleHW with their Odoo implementation while maintaining the highest quality of services. The successful remote execution of the project was due to Port Cities' proven expertise in delivering worldwide services, especially with our specialist teams already located in different countries.
Odoo was able to meet SimpleHW's rigorous requirements for a customer-centric ERP system that is not only simple to implement but also user-friendly. More importantly, since SimpleHW use serial numbers to track their products, it was essential that Odoo supported this unique feature of the IoT business. 
Another reason why SimpleHW wanted Odoo to be their primary ERP system is its ability to scale. Odoo can be configured and customized to fit the needs of any business, large and small, from a niche startup or a retail chain with thousands of SKUs to a national company with a complicated accounting system. Mr. Sodomka believes that in the future when his IoT business launches more products or hires more employees, it is without a doubt that Odoo can scale up and sustain his company's growth model.
Port Cities' trademark implementation methodology
In the first phase, Port Cities, one of the
world-leading Odoo Partners
, helped SimpleHW to transition to Odoo from their legacy platforms, starting with
e-Commerce and Website
, followed by Helpdesk, Chat and Manufacturing. Over time, they completely migrated other core functions such as CRM and Inventory.
Currently, SimpleHW's Odoo app suite includes but is not limited to CRM, Invoicing, Sales, Website, eCommerce, Accounting, Inventory, Project, Manufacturing, Purchase, Email Marketing, and Helpdesk. 
What Pavel appreciated about Port Cities during the step-by-step implementation process were their profound technical knowledge and rapid customer service.  According to the SimpleHW CEO, Port Cities always strived for
real-time responses and immediate solutions
. Most importantly, Port Cities not only aimed to assist their clients with always-on support but also found ways to hone Odoo into an increasingly well-rounded and independent ecosystem. 
The automation and digitization coming from the adoption of Odoo played a critical role for SimpleHW as a small team in improving their internal processes and optimizing the workforce. Their Odoo system, deployed successfully in partnership with Port Cities, enabled them to do things faster in a more reliable way. After a period of using Odoo as their business management system, SimpleHW found distinctive improvements in customer service performance while being able to track products and allocate resources more efficiently. Further than that, they could perform better forecasting for product development and manufacturing using business intelligence features embedded in the ERP system. Switching to Odoo also brought more benefits to SimpleHW customers as they are now informed of stock availability in real-time, can keep track of all previous orders and invoices among other benefits thanks to interconnected Odoo modular features such as Inventory, Invoices and Helpdesk.
Criteria in choosing an ERP implementation partner
Having heard of Odoo for a long time, Pavel wasn't sure it was the right match for his company. It wasn't until 2019, the newest version of Odoo at the time - v13, packed with constantly improved functionalities and countless possibilities of customization, convinced Pavel that it had the potential to be SimpleHW's all-in-one ERP solution.

Selecting the ideal ERP system is one thing, choosing the right Odoo implementation partner is a whole different process. With years of experience working with various industries and systems, Pavel understood the importance of having a partner who thoroughly understands the nature of his business and the characteristics of its operations. Besides technical expertise as the foremost criteria in choosing an Odoo Partner, Pavel highly valued the flexibility, agility, and top-notch level of responsiveness he found in Port Cities' professional team.
Are you looking for an Odoo implementation partner who has expertise in your field and understands the nature of your business? We can implement your Odoo systems no matter where you are in the world. At Port Cities, we have over 20 years of experience in various industries and have implemented 500+ successful ERP systems across the globe. Contact our consultants to discuss your business needs.