Odoo 16 is the latest version of the Odoo ERP. When it was unveiled at Odoo Experience 2022, the Odoo team said it would be the fastest and easiest version of the ERP since its inception.
If you didn't know that Odoo has had to change its name three times since 2005 and Fabien Pinckaers, Odoo CEO, almost became homeless, then you wouldn't appreciate the hard work that has gone through the Odoo version we have today.
Odoo 16 is proof of Odoo's ambition of helping businesses be the best they can be with unique technologies. 
In this latest version, users can welcome a new application called the Knowledge app, an eCommerce app that is 3.9x faster at loading pages; an edit button is no longer present as everything gets saved automatically, dark mode, Website app now has both its backend and frontend merged into a single dashboard, and a host of other improvements. These improvements make Odoo 16 3.7x faster than the previous Odoo 15.
That sounds exciting, but should you upgrade to this Odoo 16, especially when the present version works fine? First, Odoo support service is available for the three most recent versions, beginning with Odoo 14.0. 
As with any software, new Odoo versions ensure that previous bugs and oversights are corrected, and access to new features and improvements makes migration a good deal.
Also, this year, Odoo has a new pricing plan. This piece will discuss how it differs from the previous pricing and what it means for new and old users. But before then, what are the latest improvements?
Let's get to it.
Collaborate Faster With The New Knowledge App
The purpose of the Odoo Knowledge app is simple - to make information sharing and team collaboration super easy.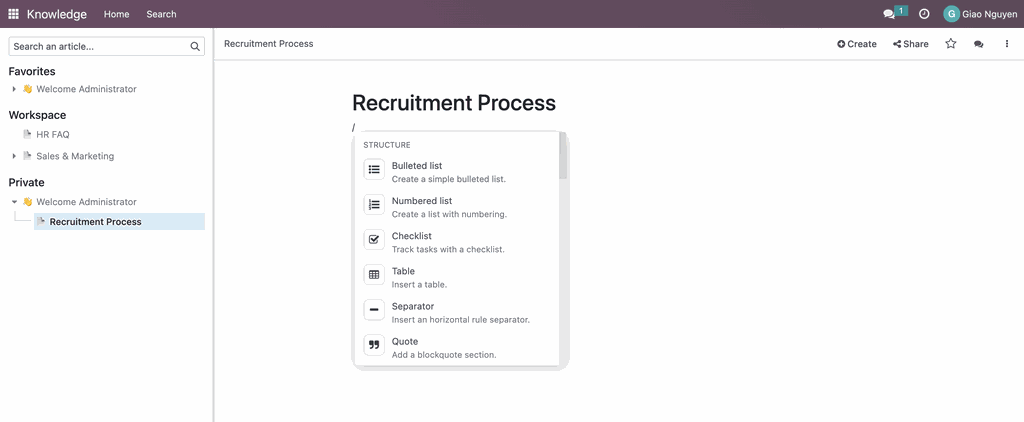 Internally, Odoo Knowledge provides a private space, shared space, and workspace to create team guidelines. When you need to know how a particular task is done, see if someone (maybe your manager) has written about it and shared it in the knowledge app. When you access the article, if a step is missing, edit it, and Odoo will notify the manager automatically. 
When that same article becomes a hot topic among your clients, make it public, and Odoo will automatically create a knowledge base on your website so everyone can benefit.
The knowledge app helps users build and share business processes, documentation, and best practices from any Odoo app through the smart icon.
Because users can access the app from other Odoo apps, its use cases are beyond impressive. For instance, with the Odoo Helpdesk, Odoo Knowledge will help centralise all information, save time resolving tickets, and reduce the number of tickets.
Improved User Experience on the Website and eCommerce apps


The Website and eCommerce apps in Odoo 16 have more features than older versions and are more intuitive to improve user experience.
The Odoo Website app is now available in one click instead of going through the Website app dashboard, as was the case initially. A cookie consent bar, per the GDPR rules in Europe, is also now available in Odoo 16 to give users control and choice over their information.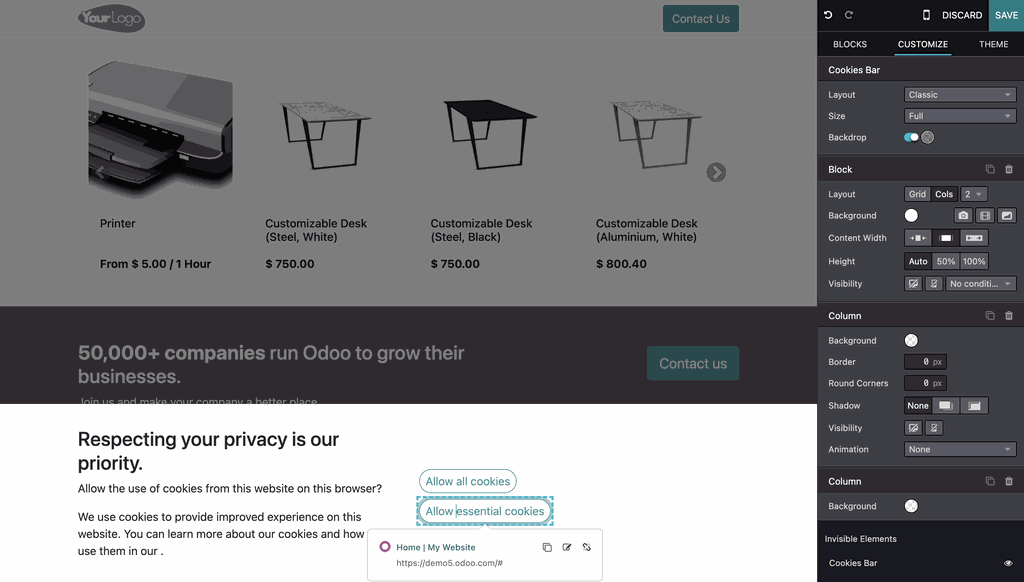 The eCommerce application is also getting user-friendlier with new options available. For instance, more payment providers, such as AsiaPay, Razorpay, and Flutterwave, are now added to reduce cart abandonment and give customers more options. Upselling blocks can now be customised, and variant features are accessible from the front end.
Other improvements to the Website and eCommerce apps in Odoo 16 include;
Mobile editor, so you can make changes to the website on the go.

Customize the website right from the front end.

Adjustable product layout and photo bulk upload to save time.

Determine product availability with a single click.

Collect on-site payment & Express check-out

Create the 'add to cart' button with a drag-and-drop.

New easy-to-use rental building block with an inbuilt Calendar.

New loyalty program engine.

Analytics by plausible.io to easily track the website and eCommerce metrics.
More Refactoring on Odoo 16 Accounting
Odoo Accounting is already one of the best accounting apps in the market. But with Odoo 16, the Odoo team went further with more user-friendly refactoring.
The first change in Odoo Accounting is the new design that will improve navigation throughout the app. There are also more localisation packages available, which means more countries now have a tailor-made accounting system. There are over 20 new countries in the updated list in Odoo 16.
The new bank reconciliation widget makes all information more visual in a single dashboard, significantly improving user experience in terms of navigation, interface, and readability.

What's more? Users can now activate the Accounting Firms mode in Settings to encode invoices faster. That way, you only have to set contact and total amount; every other parameter is done for you automatically.
Another exciting feature users will like in Odoo 16 Accounting is the new widget that enhances analytic plans, distribution, and models. That means users can analyse financial reports according to analytic plans and accounts.
Other new or improved features in Odoo Accounting include recurring invoices, early payment discounts, credit limit warnings, Storno accounting support, etc.
New Behaviours in the Inventory and Manufacturing Processes
The Odoo team has also, in Odoo 16, added further improvements to the Inventory Adjustment feature, such as the Last Count Date and Storage Categories. The new reworked menus also make it easier to navigate the reporting on the Inventory app.
If you have always wanted to decide if to create backorders per location or not, you are in luck. Now it is doable. You can now also automate replenishment on specific locations once you set them as Replenishment Locations. 
The replenishment feature has also added the functions of resupplying warehouse levels and visibility days setting to consider the stock quantity needed.
With Odoo 16 Manufacturing, the Structure and Cost report has been completely redesigned and renamed Overview. The Next Availability Date is available to check out the current and forecast stock of materials in BoM.
Operation dependencies on the BoM (Bill of Materials), which affect work orders - planning and status - can now be created in Odoo 16. It means two things; users can now split manufacturing orders and assign them to different work centers or employees. Also, users can merge the orders either for planning or batch production.
If you have subcontractors in the production of some parts, they can now register from the customer portal once they have access to relevant production documents. Managing manufacturing activities is better in Odoo 16.
Other Improvements in Odoo 16
Almost every Odoo app or module improved in Odoo 16, but there is only so much we can discuss. Below is more on the new features users can expect in Odoo 16.
Sales Module
More opportunities have arisen to grow the customer base through the Sales module in Odoo 16. The latest version comes with coupons, loyalty points, offers, and e-wallet features to empower sales.
The new Sales module also includes a delivery status to track all deliveries and links various online marketplaces like Seller Central on Amazon.


Odoo 16 CRM
Undoubtedly, an ERP like Odoo will improve a business with a centralised control point of view. The CRM in Odoo 16 helps automate customer relationship activities and reduce data entry work with spontaneous functionalities.
The following are a few significant improvements in Odoo 16 CRM:
Lead analysis: To make navigation easier, users can now view all assigned leads and their performance from a single dashboard. When merging leads, the source leads complete all empty fields of the destination lead.
In Odoo CRM 16, you can detect similar leads based on their phone numbers.
Language installation and usage: The List view provides an opportunity to install new languages in the Odoo 16 CRM. That means you can set a language for each lead, but if a lead has no language set, Odoo automatically sets the language linked to the customer on this lead.
There is much more to unpack in Odoo 16 CRM, especially with recurring revenue, which can now be displayed in the Kanban view's column headers. A closing remark can be added when an opportunity is lost to aid future analysis.
Point of Sale
The importance of a modern POS system cannot be overemphasised in successful sales execution. In addition to tracking functions for coupons, loyalty cards, promotions, and discounts in Odoo 15, the latest version provides another payment option via e-wallets. Customers can pay for goods and collect refunds easily.
What's more? The POS is updated to allow customers to request invoices after closed sessions and in the customer portal. The QR code is also added to receipts to quickly scan and access.
Marketing Module
As expected, there are a few new features and upgrades in Odoo Marketing 16, especially with the email marketing and social marketing apps. 
For instance, users can save more time while editing email contacts with the mass edit option. Users can now filter the mailing list into different segments and save mailings as templates for later use. 
In Odoo social media marketing, users can quote and retweet tweets from the Odoo dashboard rather than browsing the Twitter app.
You can also create Customer Leads from any social media post or comment.
Odoo's New Pricing
Odoo announced a new pricing plan at the Odoo Experience 2022, and there have been a lot of reactions about it. Odoo says, "our dream is to make digitalisation accessible to everyone, including small companies with a limited budget." 
So, the Odoo team came up with optimal pricing that disrupts the market and further simplifies pricing for all clients. Our CEO, Gaspard Dessy, explains what this means for the ERP market and how more users can benefit in the video below.
Unlike the old pricing plan, the app is no longer charged; you pay the user fee to access all apps. There are also three pricing plans in the new pricing.
The first is a free One App plan where you can install a single Odoo app with unlimited users - free forever.
The second plan, Standard, is best for clients with no customisation needs. You can install as many apps as you want and will be charged based on the number of users per month. This plan is available only for Odoo Online.
The Custom plan is the third option, and it is intended for businesses that require system customization and operate as a multi-company. This plan allows you to host your Odoo system in Odoo Online, On-premise, or Odoo.sh, and use the Odoo Studio to customize your apps.
Scale your business with Odoo 16
Odoo releases a new version of the ERP every year; this year was no exception. At the Odoo Experience 2022 in Belgium, Odoo 16 was released and promised to be the best version of the Odoo ERP thus far.
It has been termed the fastest, most beautiful, and most intuitive version, and rightly so. The new Knowledge and a host of other improvements are proof. As we end this piece, we ask you a question; when will you be migrating to Odoo 16, and if you don't use Odoo yet, when will you join us?
If you have any ERP-implementation-related questions, contact us here.