The year 2020 has been a very turbulent one for every single business, all around the world. Almost every company needed to adapt in one way or the other - to change product portfolio, start selling online, or switch their office for home working. A lot of the physical events & conferences were moved to on-line space, and so was Odoo Experience 2020 - an annual festival of fans, users & partners of Odoo ERP system. Apart from awarding the best Odoo partners (which we as Port Cities were awarded last year), Odoo team will introduce the new version of the system - Odoo 14. Only several days ago, Fabien Pinckaers - the CEO of Odoo announced the new expected features & improvements of the system. We prepared a sneak peek into Odoo 14 features for you!
Modern ERP system - improved user experience
One of the biggest competitor advantages of Odoo (when we compare it with other big ERP names like SAP, Oracle, or Dynamics) has been its user-friendliness. And Odoo continues building on this. Adding more shortcut keys to control your system faster, improving the system speed & adding more one-click features makes you save minutes of your time every day.
Probably the biggest improvement users will appreciate is adding different widgets into the list view - you can now send messages to your colleagues, plan your to-do activities within 1 click.

Automated CRM - focus on your clients, not on data input
A CRM system is a powerful tool - it can give your company a lot of insights, it can help you to forecast your sales or find the information about clients easily. But I believe that every sales manager will agree with me - it is a big headache to make people fill it correctly & regularly. Salespeople often do not see the value. As it takes time to log the information, they often tend to keep all the information in their heads or their mailboxes. What if the CRM was there not just to give insights to the management, but also to save time for sales staff?
Gmail & Outlook plugins
Odoo users have been asking for a feature, which would help them to log the communication with their clients automatically in the CRM. Finally, with version 14, Odoo will introduce a Gmail & Outlook plugin to automate the communication logging. This feature will definitely help every sales manager, who wants to track the communication of his/her subordinates. It will also be a priceless tool when an employee leaves the company - as the transition process of communication with the clients will be much smoother & more traceable.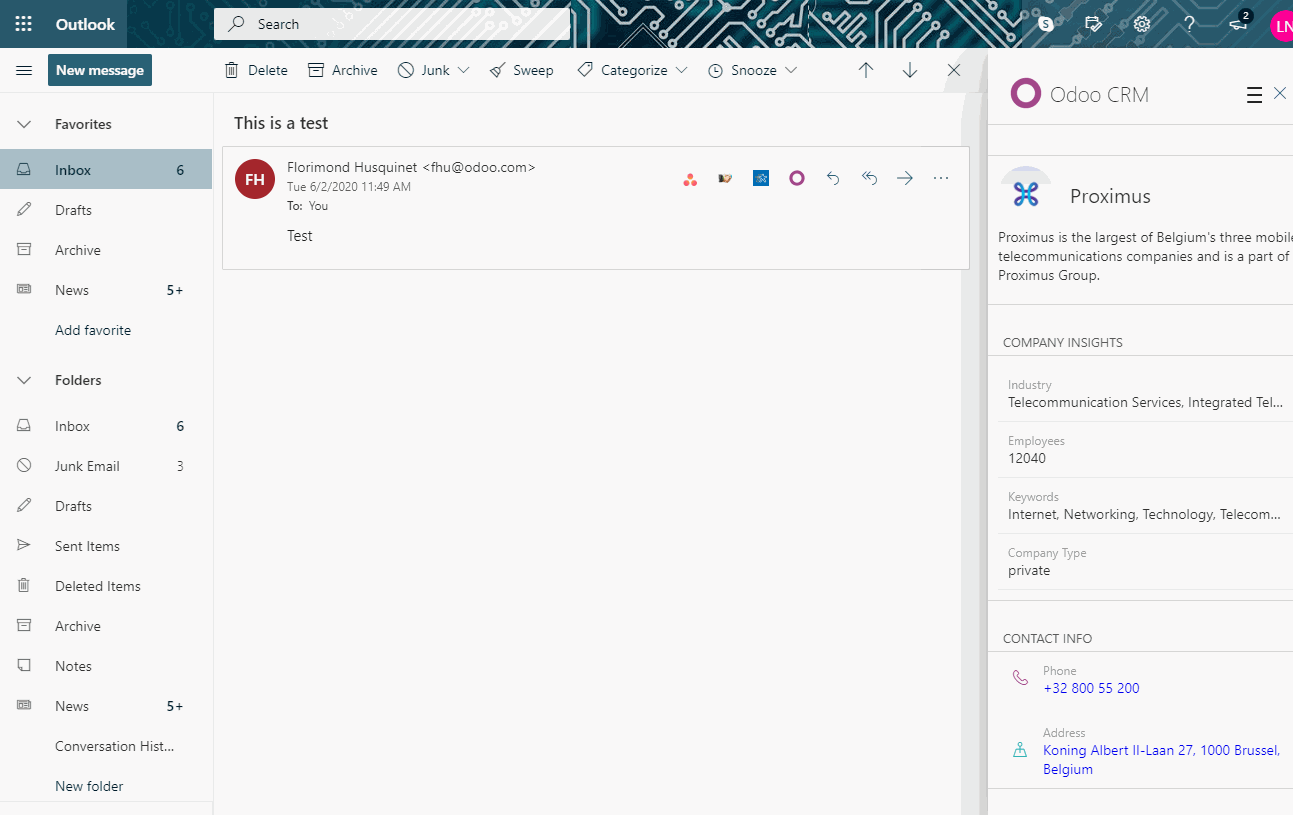 Time-saving to-do list of your activities
Odoo 14 aims to help salespeople focus on their main job - selling, instead of tedious data input. With the new & improved views of the activities, salespeople can easily see what is their to-do for each day, what is their next activity, its importance & potential impact. With an improved follow-up section, the salespeople will be able to send an e-mail or SMS to the potential client even faster than using their mailbox.

Revamped website builder
The Pandemic has been reminding all of us that on-line presence is vital for keeping businesses alive even during the lockdown. Odoo has been improving its website builder significantly from version 11. Version 14 is supposed to redefine the website building experience significantly. What was previously possible only by designing custom HTML, CSS & JS will now be available & configurable directly in the visual builder. Odoo tries to bring more options for experienced marketers, as well as a simpler interface for the ones who do not have any experience with building a website.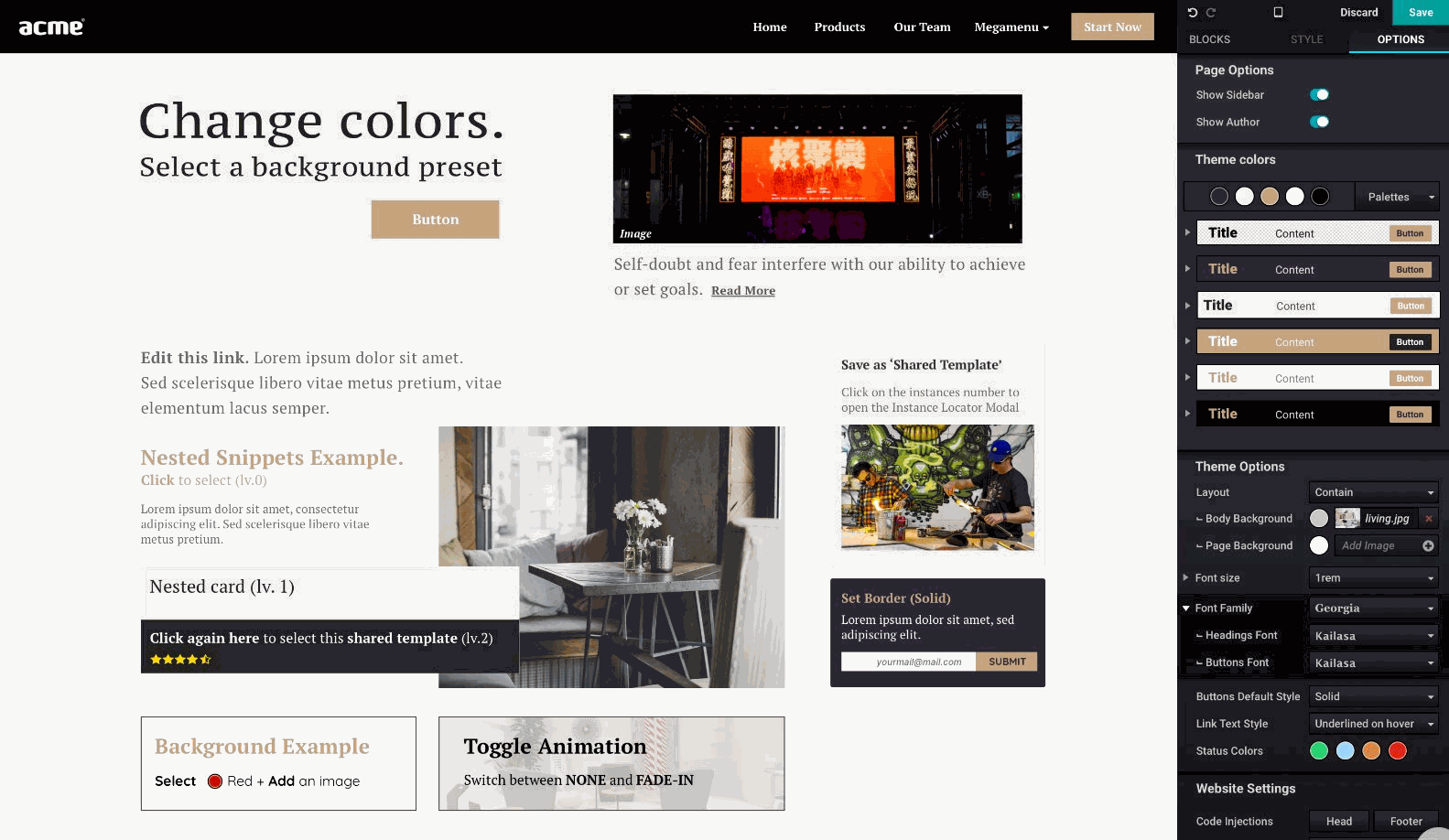 Odoo also realizes the need to keep pace with the big e-commerce players. Until now, the main competitive advantage was that Odoo is an ERP and all the processes behind are automated in the same system (inventory management, deliveries, e-mail marketing, invoicing, …). Nevertheless, to build a stunning e-commerce website, you needed to spend hours on preparing your own website template, buy one from an Odoo store, or simply accept the boundaries of the default Odoo functionalities. From version 14, Odoo adds up new features for e-commerce businesses, such as ribbons, tags, selecting the position in the e-shop so you can build the best and most optimized online experience for your customers.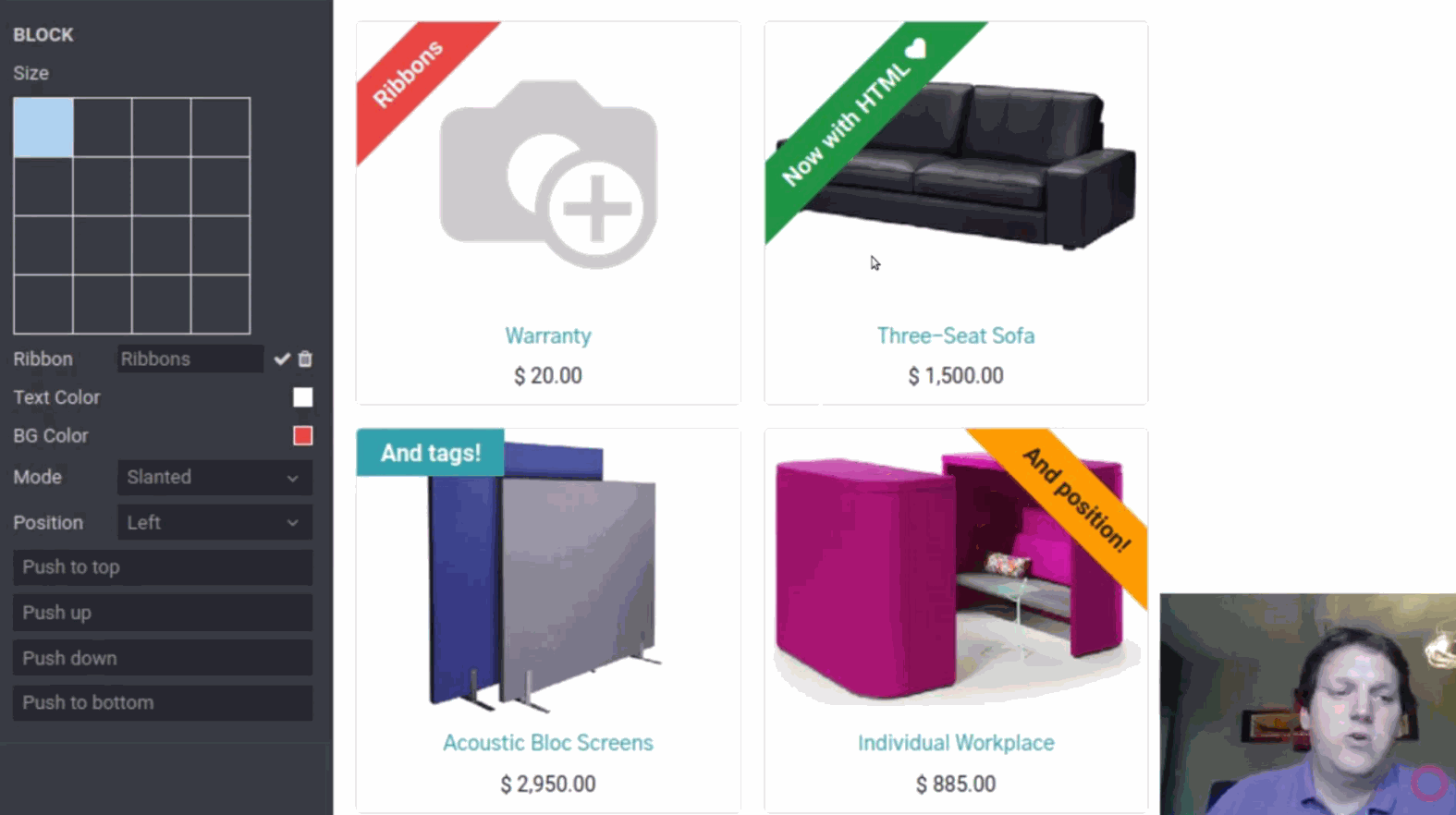 Business Intelligence tools
Odoo has been a great helper to thousands of companies worldwide when it comes to automating the input of the data, storing & reporting. However, for more complex needs of interpretation of the data, 3rd party software was often used - be it Tableau, PowerBI, or simple integration with Google Sheets & data interpretation in Google Studio. With version 14, Odoo is again one step closer to be all in one solution for all the needs of a company.


Brand new module - data cleaning
All the users of Contact, CRM, Recruitment, and other apps know that it is very easy to get duplicated data in your system. Since Odoo is, in general, an open system & restrictions are usually handled as customizations, there was not an easy and convenient way to get rid of the duplicates. What you needed to do was to export the data out to csv/xls file, identify duplicates (be it email, phone number, company name, individual name, …), rename them into "to delete" or some other name. Then you would update your records by importing them back into Odoo and finally, you could filter them based on the name "to delete", select them all & erase. This workaround works, but costs you time & you need to have at least basic knowledge of Excel functions. Odoo realized this was a space for improvement of the system, and they introduced a new application Data cleaning, which actively allows you to get rid of the duplicated data anytime you need, without the need for an external app.
Spreadsheet view
For the fans of the Excel Sheets or Google Spreadsheets, Odoo integrated a new view that allows you to prepare plans, projections & forecasts directly in Odoo, without the need of switching between multiple platforms. You do not need to remember where the latest version of your forecast is or whether everyone has it - all is shared with the right people, directly in your ERP.
Tweaks in Purchase, Inventory & MRP
In version 14, Odoo focuses on the efficiency of the replenishment & manufacturing processes. All the procurement managers will definitely appreciate improved reordering of the stock, based not only on the real quantities in the inventory but also based on the forecasted ones.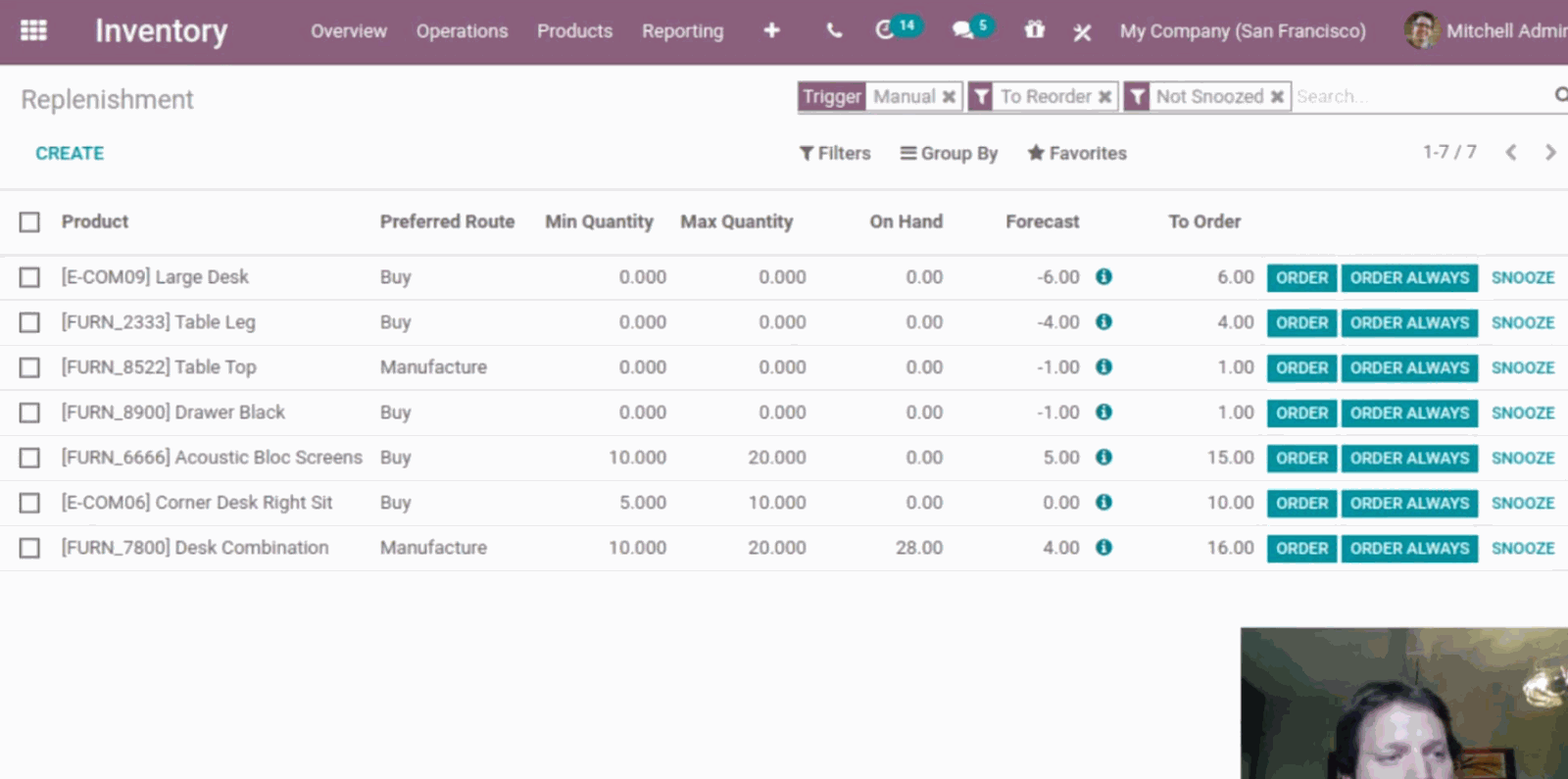 Similar improvements were made in the manufacturing app as well - Odoo simplified the production process (routing is no longer required), as well as added forecasting of the availability of the components to produce the end product.
Features from Odoo 13.2
Odoo 13.2 was released at the end of March 2020, but only the users of Odoo Online (hosted on Odoo cloud with no customizations) could experience it in real operations. For all the users using Odoo on different hosting platforms (Odoo.sh, own cloud, on-premise), these features will become available with version 14. Several applications, e.g. website, e-learning, accounting, events, inventory, or manufacturing got a few new features the users have been requesting.
Version 13.2 brought a lot of new functionalities:
Cookie alerts for the visitors of your website

Approval app linked directly to the purchase (more advanced PO/PR approval process)

More options & gamification elements in e-learning

Bunch of new accounting features (e.g. improved reconciliation, data import, reporting)

Improved inventory management (advanced reordering rules, signing deliveries, …)

Overall, there were more than 100 improvements done in this version, and you can see the full list of them in Odoo 13.2 release notes. In case you want to play around with the version 13.2, do not hesitate to try Odoo 13.2 on runbot (both login & password are "admin").
Upgrading Odoo the to latest version
If you are already using an older version of Odoo, you should definitely think about an upgrade to the latest one to enjoy all the new features, enhancements, improved performance & security. Odoo Enterprise license contains a free upgrade of your database to the newer version. Usually, it takes around 3-5 months to complete the migration script, so it is expected that you will be able to upgrade your Odoo to version 14 starting from January 2021. 

The second thing which you need to cover is a migration of the customizations & 3rd party applications, as Odoo will upgrade only the code of the base system. It is recommended to contact the vendor who prepared your modules to also upgrade them, or get in touch with our team to help you with upgrading & assessing your custom modules.