In honor of
International Day of the Girl (Oct 11)
created by the United Nations, Port Cities is launching a 10-part series called
Women in IT
, aimed to amplify women's voices in STEM.
We have asked some of our exemplary female Port Citizens to share their stories on how they started their career in IT and what it means to be a woman working in a field traditionally reserved for men. 
Siti Mawaddah - Director of Outsourcing 
The first story in our series is from Siti Mawaddah, Director of Outsourcing Indonesia. Since 2011, Siti has held different roles in the IT industry, as a software engineer, a project manager & most recently the leader of our developer team in Indonesia. Let's dive into her inspiring story: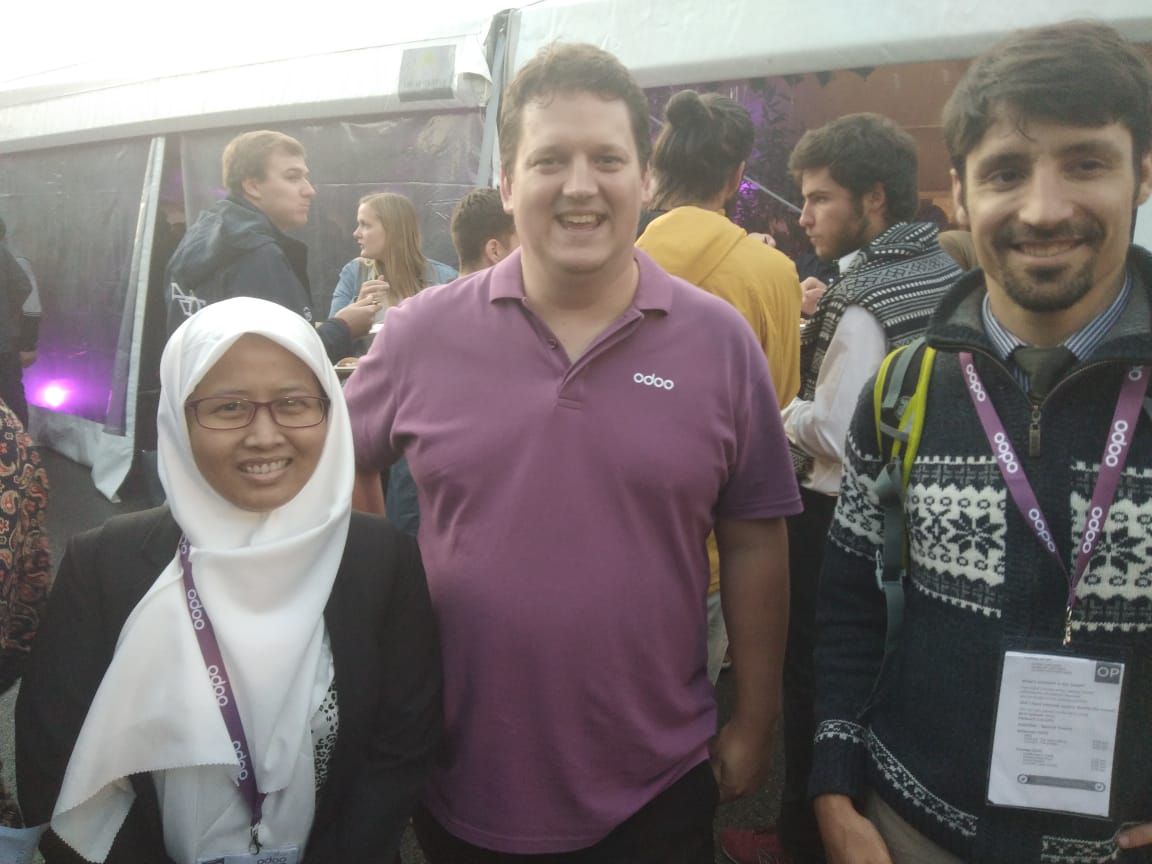 Siti Mawaddah with Fabien Pinckaers -CEO of Odoo and Gaspard Dessy - Managing Director of Port Cities at Odoo Experience 2019

Hello Siti, what led you to your career in IT?

Short story, until the 1st semester of the 2nd grade of high school I still wanted to become a doctor. After my Dad bought an old PC (with a floppy disk slot) I completely changed my mind. I knew I wanted to do something related to computers. The PC was bought actually to help my old sister to work on her thesis, but I used it for playing computer games and became addicted. 
There was a computer class at my school, which taught Excel and Visual Basic programming. I couldn't bother to attend the class because it was an after school class and the learning methodology didn't encourage me to get interested in learning.
Then I decided to enroll in computer science major at a university. I was the only female student from my high school who enrolled in this major but I was the only person to pass the enrollment. In fact, most of the students in my college were men.   
However, I really struggled in my 1st semester at university. I almost surrendered because the lessons were completely beyond my imagination. I needed to learn how to code, which for me was too abstract. I delivered all of the coding homework by copying from my smart friend. 
Until one day, my friends went to my house to do coding homework together. I still remember exactly the task, which was to create a code in Java to convert numbers to text, for example from 1,000 to "One thousand".  One of my friends, who was also a girl, explained to me the logic of this task. And voila! I was enlightened, my heart beat so fast as I was so thrilled that I finally understood how to solve this homework!
It was the first time I submitted the homework done by myself. I only got 70points for the exercise but I was still happy. After that, I always did the homework by myself and received good grades on every coding task. I didn't like computer network subjects, but I still got good grades because there was also assembler coding. 
After success with an internship by solely delivering an application using Visual Basic and Ms. SQL Server for the Customer Service department of a bank in Indonesia, I decided I would want to have a career as a software programmer after I graduated. Here I am at Port Cities after a long journey with several other IT consulting companies. I have held several roles from a programmer, business analyst, project manager, freelancer and now I am leading Outsourcing Indonesia for Port Cities.  
How does this job empower you as a woman and why do you think more women should join the industry? 
I remember that I tried to apply to a big company as a programmer, but they said they could not accept women. On the job advertisement, they explicitly mentioned the position was only for Man. WoW!
To me, there are no reasons to restrict this field to men. What men can do also can be done by women. Women can even have more advantages because usually they pay more attention to detail.
Huynh Nhu Ngoc (Ruby) - Business Analyst Team Leader, Outsourcing Center Vietnam


Hi Ruby, what led you to your current position in IT?
I studied Supply Chain Management at University, then had a chance to get familiar with SAP while enrolling in an Information System course in my third year. During this course, I was extremely impressed when realizing an ERP system can solve almost all the supply chain problems that I had to manually handle in the previous courses, such as delivery, manufacturing scheduling, sales demand forecasting, etc.  I thought the situation in a real business would be the same: people struggle with paperwork processes while an IT solution could definitely make their life easier. I consider this the single main realization that led me to the decision to start a career in IT. 
How does this job empower you as a woman and why do you think more women should join the IT industry? 
Being a woman in tech at Port Cities has enabled me to improve not only my IT knowledge but also soft skills including communication and leadership skills. I think we should encourage more women to join the IT field in order to remove the gender barrier in our generation and also the next one. One day, we will never hear anybody telling the girl that "No, IT is only for boys, you should study other things because you are a girl."
Mylène Gable - Director of Port Cities Americas
Meet Mylene Gable, the female go-getter in our "Women In IT" series. Mylene has been the Director of Port Cities Americas for the last 2 years. 



 Mylène, what led you to your career in IT?
After studying International Business, I started to work between marketing, sales and management for different industries. As I always had an entrepreneur mindset I quickly decided to create my own business, which I did in the VR industry without any IT background. That is how I enter the IT world. I always enjoyed having tools that make life easier and it is exactly what IT does (or should do). A few times after starting my business I had the chance to meet Gaspard, the CEO of Port Cities, and collaborate to set up the business in Mexico as a short-term mission. And today, I am still here, enjoying developing the business in the Americas with a great team.
Why do you think more women should join the IT industry?
First, if you want to do something you should do it and don't let anyone or anything stop you. When you say "IT job" people often think of "men" and "Geek". Well, that's not true, if you have the chance to meet Port Cities, you will see how diversified, fun and serious an IT company can be at the same time. Just try it, and you will not regret it.
Le Thanh Ngan - Business Analyst, Outsourcing Center Vietnam
Meet Ngan, a lovely lady in IT from Outsourcing Center Vietnam, who has been with Port Cities for only 6 months but quickly become an indispensable member of the Business Analyst Team.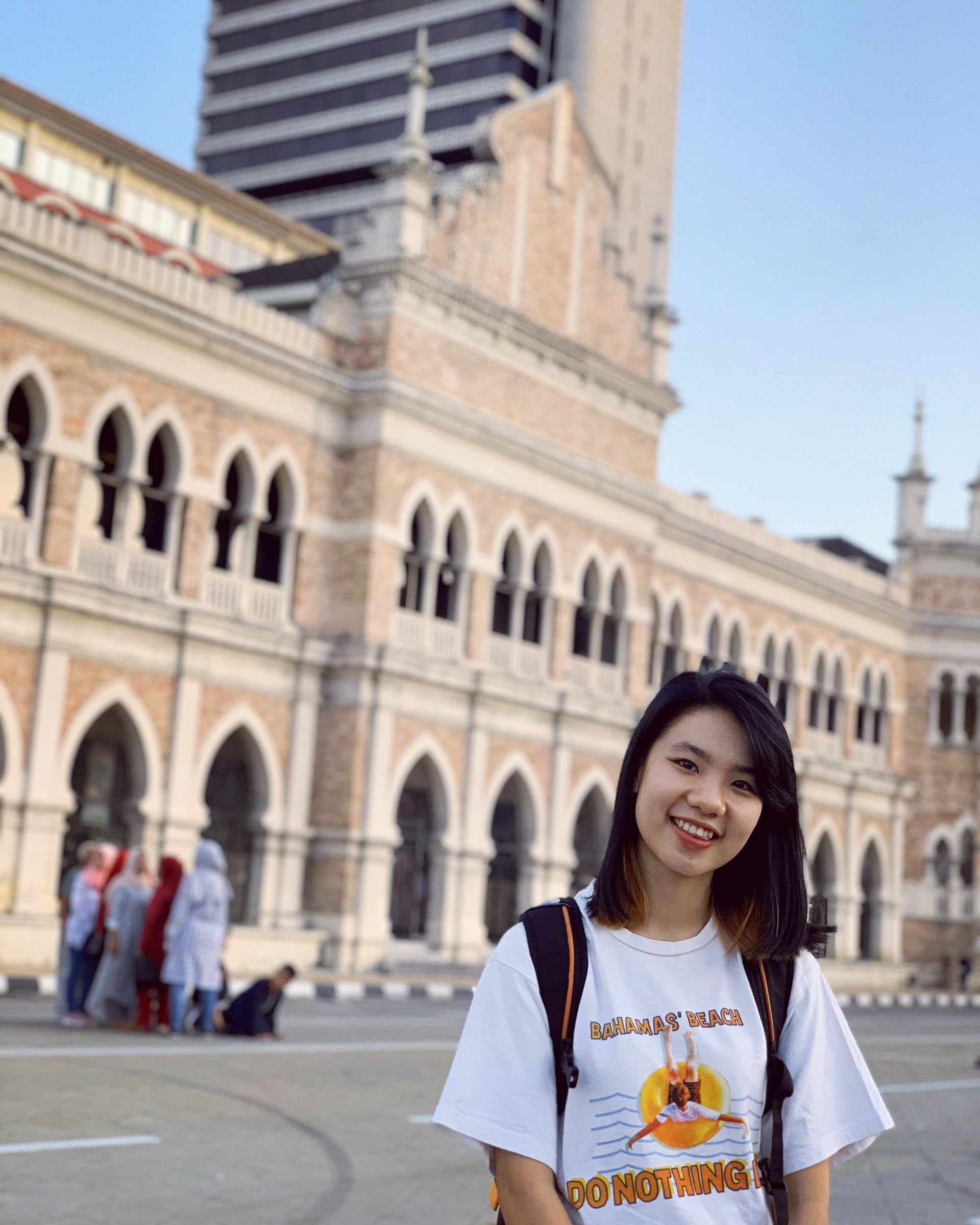 Ngan entered the IT industry when she had a chance to work with the SAP system as an SAP consultant after she graduated. She quickly realized that technology has fundamentally changed the way we live, from the very little think. She said "We cannot think of any professional business that does not benefit from the rise of technology in general and IT field in particular. And that has inspired me to work in the IT industry."
When asked what it was like to work in IT, Ngan was exhilarated: "Being a woman in the IT industry is awesome. Not only men, but women can do it too."
Marina Similski - Sales Manager, Port Cities Indonesia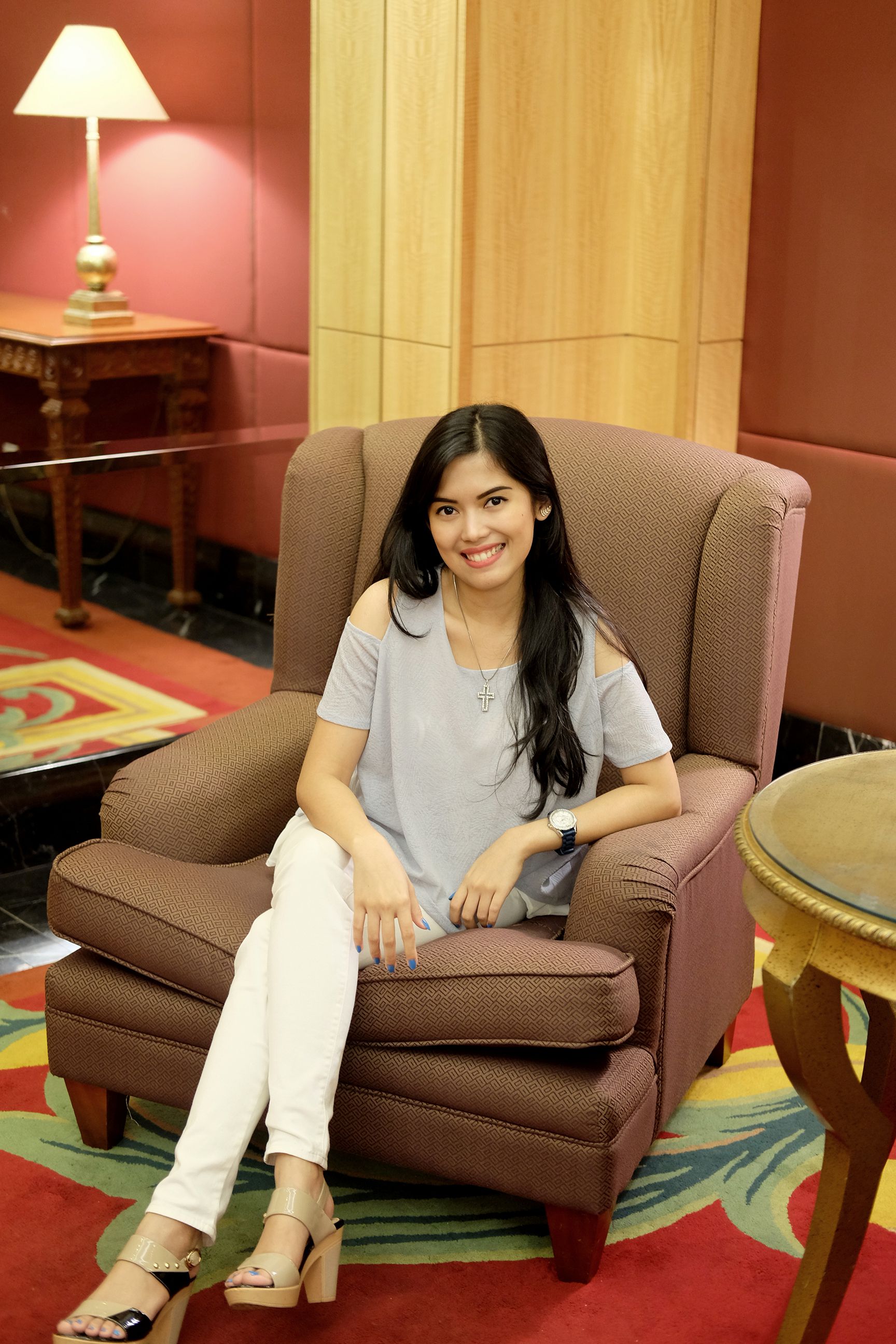 How long have you been with Port Cities, Marina?
I have been with Port Cities for 3 years and 2 months!
How and when did you start your career in the IT field?
I've been working in Sales and Marketing since I was in high school to support my parents' business. To be exact it was in 2008. During this time, I explored all things business-related until I found myself interested in the IT world. At first, I thought being a tech person means I would have to know how to code. but no, it didn't have to be like that. In fact, when I got the opportunity to work at Port Cities Indonesia, I was still able to use my previous experience and started developing new skills. These new skills allowed me to become an IT consultant who is able to help and advise people to manage their businesses.
How does this job empower you as a woman and why do you think more women should join the IT industry? 
I like it when people asked me what I do for a living and I answered that I work in an IT company, most of them reacted: "Wow you work in an IT company? Sounds heavy but awesome!" and yes IT is not only for men but women can definitely bring great values too!
Jane Ha- Marketing Specialist, Port Cities International


Meet Jane Ha, a new member of Port Cities' Marketing Team, and a newcomer in the IT field. Having had experience in various industries and being a rebel when it comes to breaking down gender stereotypes, Jane soon realized the enormous benefits that technology brings to the way people live and the way businesses operate, which was the key motivation for her to join the tech industry. 

Why did you decide to join the IT industry?
My background is in Marketing & Social Sciences and I have experience working in a Big 4 company. However, the IT industry is a brave new world to me. I have always been aware of the impact technology has in modern life and how significantly it can benefit how we live, behave and especially do business. This is an area that brings real value to the way companies manage resources and can actually help solve important business problems as well as improve organizational efficiency.    
How does this job empower you as a woman and why do you think more women should join the IT industry? 

The more I work with my colleagues in this field, the more I realize women are a great asset because they deliver bring different perspectives to the table. 
I enjoy breaking into the boys' club. We need more women in the IT industry despite the barriers and stereotypes preventing them from this field because I believe a diversified workforce can make a positive impact not only on the face of the industry but on the nature of the industry itself including what technology creates and how it communicates to the public. Most importantly, having more women in tech can help break the cycle of the industry being male-dominated, fill the talent pool for IT roles, and make sure that technology products are created with everyone in mind.
Septia Devi Cahyaningtias - Account Manager, Port Cities Indonesia 




Septia Devi, Port Cities Indonesia Account Manager and a long-term IT enthusiast, shared with us her experience as a woman in the IT sector.

Hello Septia, what brought you to the IT industry?
It all started when I was in the 1st year of senior high school in 2010, my favorite lesson was computer science. I was so excited every time computer lessons came.
Then I started to learn independently about computers, including Microsoft office and even Photoshop editing. However, I had a problem in choosing a college major between interior design and informatics engineering because I also like interior design and wanted to make a living from it. Until one day I received a scholarship at a university in Semarang for informatics engineering. I took the scholarship with no hesitation.
Do you know that most students in informatics engineering are male? Well, it's true. You can easily count the female students in my classroom on one hand. But it doesn't matter, I think it was really cool to be a female in IT and compete with the male students.
Long story short, I learned more about IT and how to make a small application in college. I then thought: "Wow this is fun!". Even though sometimes I got stuck while coding for a few days, which was the best part actually because when I succeeded in solving those problems, I felt very satisfied and happy! I graduated from college in 2016 and thought where else would I work if not in the IT industry? So, here I was in Port Cities starting my career as a software engineer in 2017 for almost a year, then I tried a new challenge as a business analyst for a few months, which finally led me to my career path as an account manager.
How does this job empower you as a woman and why do you think more women should join the IT industry?
Working in this IT industry, and at Port Cities in particular, helps me to not only learn IT knowledge, but also to manage my team, and make decisions for the team as well as my clients.
Women and men are equal now, women can do what men do. We are proof that we can work together in harmony. There is no limit for a woman on doing what she wants and achieving what she dreams of.
Ivana Bartonkova - Chief Marketing Officer, Port Cities Group


Ivana, how did you first get involved in the IT sector?

I was always intrigued by technology, mostly on the software side. When I was 17 and choosing my college, I decided to study social sciences in the end (even though I passed the admissions for applied informatics). I found my way to IT a few years later on, where I saw how it is often lacking in a lot of different businesses & organizations and that people still do a lot of things manually, even if they could be easily automated.
What advice do you have for young women who want to pursue a career in IT?
Balance is what every company and every industry needs. Both men and women bring unique benefits in terms of communication, way of thinking, and problem-solving. And I believe this is what we tell to the young girls, our cousins, daughters - IT is great for ladies, there is no career path a woman cannot have!
Interested in a career with Port Cities? Check out our job openings here!