Name of Organisation:
allnex
Location: Australia & New Zealand
Industry: Manufacturing
Company size: Large
Number of users: 160
Time of implementation: ~1 year
Systems implemented: 
Odoo Accounting, Inventory, Manufacturing, Quality, Sales, Purchase, Invoicing & POS.
About allnex
allnex is a leading producer of coating resins and additives for architectural, industrial, protective, automotive, and special purpose coatings and inks. Through 33 manufacturing facilities, 23 research and technology support centres, and five joint ventures, the allnex Group is present on four continents and serves customers in over 100 countries.
The €2.1 billion-revenue global company also supplies materials to the composites, construction, and manufacturing markets. In Australia, allnex is the forerunner in the manufacture and distribution of composite resins, flowcoats, and gelcoats, as well as resin-based in situ flooring systems for the commercial and industrial sectors in New Zealand.
In Australia and New Zealand, allnex also has a unique B2C component that sells various products to customers through trade stores in 10 locations across.
Photo Credit: all photo credits belong to allnex
The Challenge
allnex was about to launch a project in Australia and New Zealand to replace their legacy ERP system, Microsoft Dynamics AX (2009) with SAP. During the scoping exercise, it was determined that there would be significant changes required to the global SAP template to support the unique products sold to the B2C customers in the region. It was also felt that the use of an ERP-lite solution would better serve this business, improving the customer experience due to functionalities such as Point-of-Sale and Webshop.
Facing this challenge, the allnex team analysed a number of solutions, from which they narrowed their selection down to Odoo. After attending an Odoo Roadshow in Sydney in 2019 they reached out to Port Cities Australia due to their superior presentation at the event, feeling confident that Port Cities had the experience to support this complex project.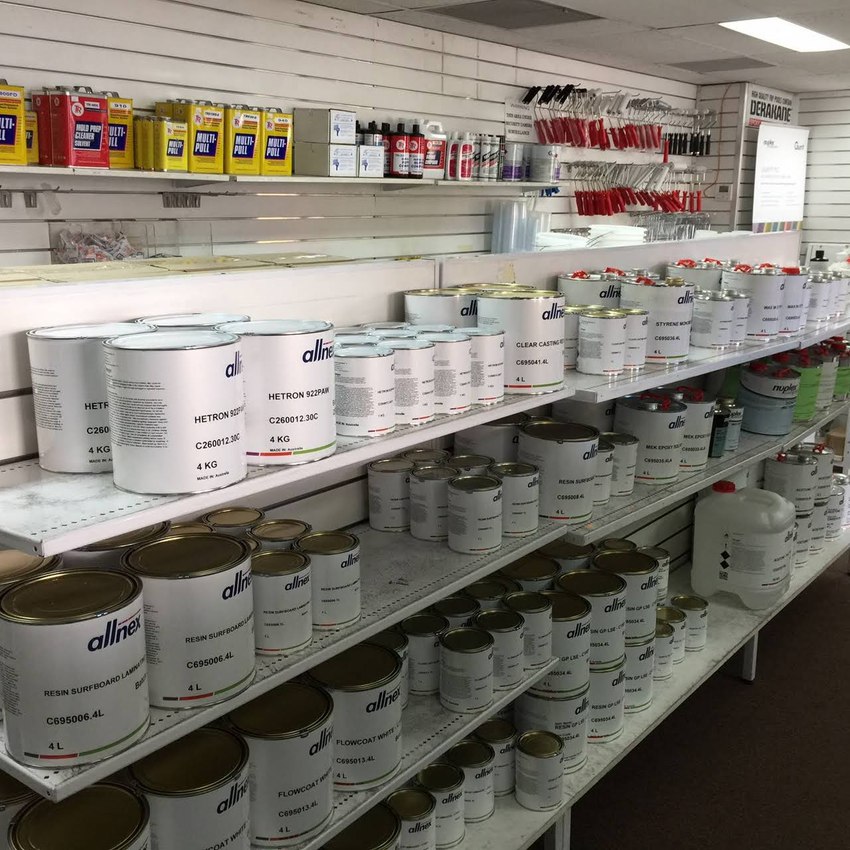 Photo Credit: All photo credits belong to allnex
Key Objectives
Replace MS Dynamics AX (2009) with another fit-for-purpose solution without requiring significant additional resources. 

Optimise the cost-to-serve for this unique part of the business.

Significantly improve the user/customer experience for the retail business, especially at the Point of Sale.

Define a clear separation line between Odoo & SAP activities (allnex Composites & Construction to be managed by SAP and allnex Retail by Odoo Enterprise).

Automate data flows between the general ledger from Odoo to SAP at the end of a period.

Interface with a number of other 3rd party software platforms e.g. trade compliance, and shipping.
Port Cities' Solution
While attempting to understand allnex's pain points, we discovered that allnex was having difficulty satisfying their retail customers, particularly at trade stores. A POS transaction takes several minutes to process on the initial system. Still, a stand-alone solution without an already-built-in system capable of streamlining allnex's retail business processes would not suffice.
This is where Odoo ERP came into play. After reviewing Odoo among several other options, allnex project managers, Judy Gulikers and Neil Rogers agreed that "in comparison to MS Dynamics AX and now SAP, the allnex Business finds Odoo a less complex and more flexible solution that is a better fit for the Composite and Construction Products B2C businesses."
According to the project managers, they chose Port Cities as their Odoo implementation partner because "Port Cities had managed projects of a similar size and complexity to ours. We felt after our initial discussions that they understood our needs, would be a good fit for us, and a strong business partner."
The Port Cities team implemented:
A multi-company environment since allnex retail operates in two countries – Australia and New Zealand.

The Odoo apps, Sales and Purchase to sell more efficiently and easily manage suppliers and purchase orders.

Odoo Inventory to cater to effective inventory management across the trade stores.

Odoo Manufacturing and Quality to define quality control plans and manage production part approval process submissions.

Odoo Accounting and Invoicing apps to track bills and expenses and create professional invoices in a shorter time.

Odoo POS module to accelerate POS sessions across all trade stores.
Although the project's timeline was impacted by the unprecedented pandemic, the two teams (Port Cities and allnex) built strong relationships and worked together to achieve a common goal.
The Results
allnex's Odoo ERP implementation included 8 Odoo modules used across ten trade stores in Australia and New Zealand with an estimated 160 users. As a result, the company's B2C business enjoys a separate system that helps reduce manual product and customer information updating between two IT systems, improves customer experience at the point of sale, and increases the team's overall productivity.
Odoo's integrated POS module, for instance, has a comprehensive user interface and built-in flexibility that significantly reduces queues at the POS sections and facilitates effective store and inventory management. And Odoo Invoice and Accounting apps comply with Australia's regulatory and financial requirements.
In the end, allnex's project team has some recommendations for organisations looking to implement an ERP system of similar complexity:
Ensure that the selected ERP matches the business requirements and doesn't need to be re-developed.  

Select a strong ERP partner to support the implementation. 

Be willing to invest quality time and effort in process design, optimisation, and change management within your organisation.
If you operate in retail, manufacturing, or distribution and wonder how Odoo and Port Cities can help automate data flows between systems, improve customers' experience at the POS, or streamline current processes, send us a message.