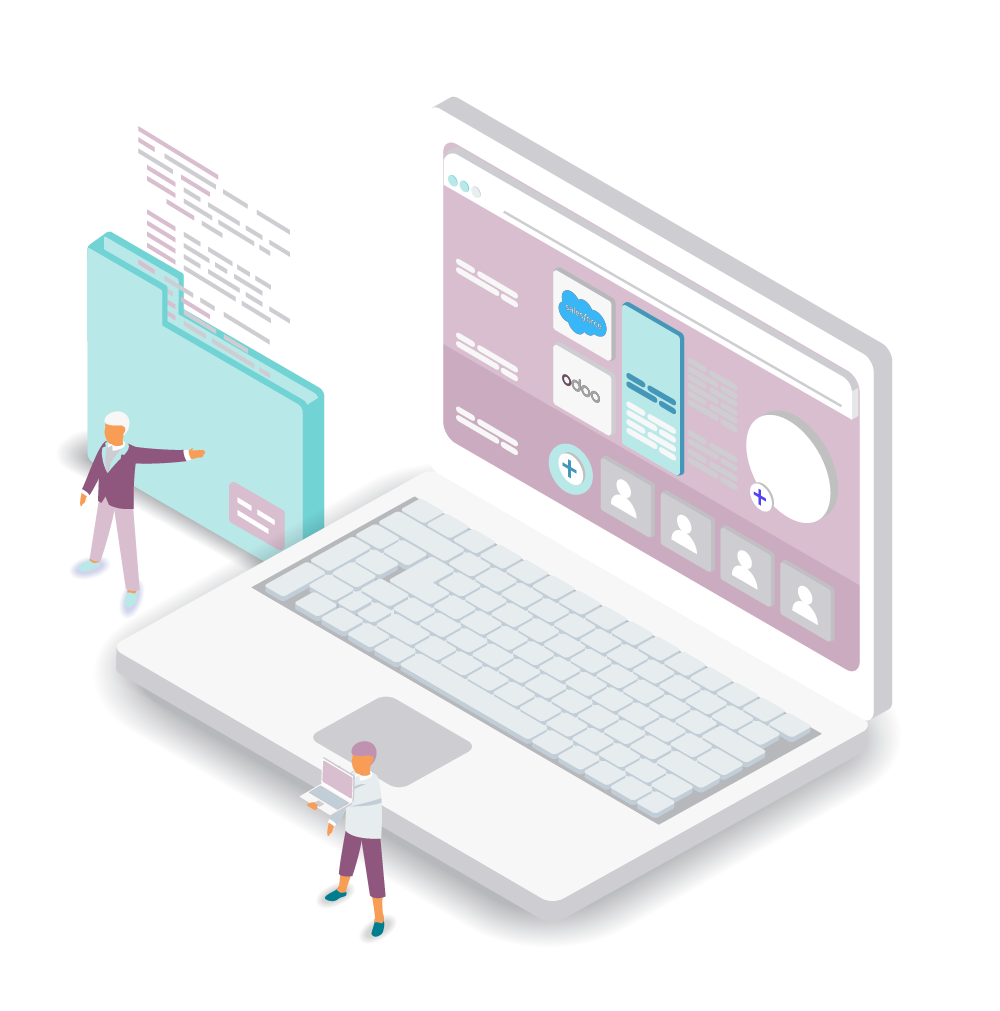 Odoo Salesforce Integration – a better way to enhance customer relationship
Salesforce Odoo integration gives businesses a better chance to enhance customer relationships with real-time data synchronization. Embrace the power of extensive customer relationship management software and a leading ERP as a single platform.
Why should you integrate Salesforce with Odoo?

You're already using Salesforce

When integrated with Odoo ERP, Salesforce's impeccable CRM features further meet customers' needs with seamless data integration with Odoo apps like Inventory, Accounting, and Expenses.

You're planning to use Salesforce
Integrating Odoo with Salesforce enhances all core requirements of business success: existing client relationships become more robust, and new client relationships evolve more quickly.

Benefits of using Odoo Salesforce Integration

Easy contact management

Odoo Salesforce integration takes contact management to the next level with superior contact export operations, aiding efficient customer service delivery.

Business performance understanding with improved analytics and reporting

Odoo's advanced reporting capabilities facilitate easy business performance identification and risk mitigation.

Increased Customer satisfaction

Businesses that use Odoo Salesforce Integration have happy customers because they can quickly resolve customer issues, personalize services and build stronger relationships.

100% data control and integrity

Data is easily synchronized between the two systems without compromise to minimize errors and aid informed decision-making.

Improved productivity with automation

Operations like contact importing into third-party ERP, opportunities exporting, and order updating are automatically taken care of.

Easy customization to meet specific business needs

Whether you want to add extra features or customize a feature to serve your customers better, the possibilities are endless.

Take customer relationships to a new level with Odoo Salesforce integration.
Features of Odoo Salesforce Integration

Export operations

Export/ update customers' contacts, product information, sales orders, quotes, opportunities, and leads to Salesforce from Odoo and vice versa.

Import operations

Import/ update price lists, products, tasks, events, contracts, quotes, opportunities, and more from Salesforce to Odoo and vice versa.

Synchronize operations

Businesses can easily synchronize upcoming contracts, orders, quotes, customers, tasks, leads, events, and many more with both – Salesforce and Odoo – systems.

How it Works

Port Cities team understands your business requirements and helps you connect Odoo and Salesforce APIs to create the integration.

Use the Odoo Salesforce integration features to transform data to the desired format and customize your integration to meet business needs.

Products, leads, opportunities, and customers' data are automatically updated on both systems to aid customer satisfaction and business growth.

SATISFY CUSTOMERS WITH ODOO SALESFORCE INTEGRATION
CONTACT PORT CITIES
Port Cities is an Odoo implementation partner ready to assist you with designing your Odoo ERP solution. This contact form helps us understand your needs.
DISCUSS YOUR NEEDS
Based on the provided information, our consultants analyze your requirements, and organize a demo to show you how Odoo works for companies like yours.
GET A TAILOR-MADE SOLUTION
Odoo demo is an essential step of our cooperation. Get the chance to consult the experts, and we will prepare a quote for your ERP solution.
Frequently Asked Questions